Wargear Cards
Cost 0

Equipment: Obsidian Skull (X2)

Cost 1

Equipment: Blind Grenade ※ Medikit

Cost 2

Armour: MK2 Combat Carapace ※ Pentagrammic Ward ※ Scythian Bonemail
Equipment: Cybernetic Arm ※ Digital Weapons (X2) ※ Frag Grenades (X2) ※ Imperial Seal ※ Infantryman's Primer ※ Inquisitorial Tomes ※ Plecian Tome ※ Psyoculum ※ Stasis Grenades (X2) ※ The Crown of Domination ※ The Living Tome ※ Treatise of Tulius

Cost 3

Equipment: Kineblades (X2) ※ Long Range Auspex ※ Power Fist ※ Shrine World Badge
Weapons: Barghesi Blaster ※ Cadian Sniper Rifle ※ D-Cannon ※ Executor Pistol (X2) ※ Force Sword (X2) ※ Power Claw ※ Storm Bolter (X2)

Cost 4

Armour: Combat Shield ※ Refractor Field ※ Suppression Shield
Equipment: Warp Rift Generator
Weapons: Harlequin's Kiss ※ Vortex Grenade (X2)

Cost 5

Weapons: Chaos Chain Axe ※ Neuro Disruptor ※ Scissorhand ※ Web Gun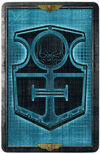 Ad blocker interference detected!
Wikia is a free-to-use site that makes money from advertising. We have a modified experience for viewers using ad blockers

Wikia is not accessible if you've made further modifications. Remove the custom ad blocker rule(s) and the page will load as expected.